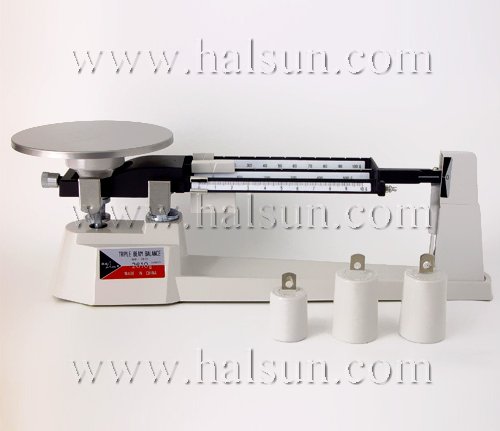 MB-2610 is a traditional
triple beam mechanical balance
. Features a large stainless steel weighing surface and cool white finish. The attachment weight set is included, allowing you to increase the capacity from 610g to 2610g.
The
triple beam scales
are widely used in industrial and mining enterprises, chemicals, pharmaceuticals, agriculture, machinery, schools and other units for substance use measure.
Model MB-2610 MB-2610B
Weighed (g) 2610 2610
Dividing the value (g) 0.1 0.1
Former ruler 10 × 0.1g 10 × 0.1g
The scale bar 500 × 100g 500 × 100g
After the ruler 100 × 10g 100 × 10g
Peel the range 0 ~ 225g
A durable, classroom proven work horse. Unlike the digital scale, a mechanical triple beam teaches mathematical reasoning skills as students must manipulate the sliding weights for a result. With the 2610g capacity this scale is also handy for home and shop use.
Sometimes it's nice to have something that doesn't require batteries or adapters. Here at Old Will Knott Scales we have a mechanical scale to fit almost any application. We have a beam scale and triple beam balance just right for the doctor's office, school, lab or workshop. We also have a great selection of analog scales for the home kitchen and bathroom. Heavy duty top loading dial scales? We have those, too.
We're sure to have the perfect beam balance, dial scale or spring scale for you. Check out our mechanical scale subcategories below to narrow your choices.