Ballpoint pens with roll out menus inside, is the ultimate promotional pen. Originally patented almost 30 years ago and still leading the industry for the best price versus performance ratio.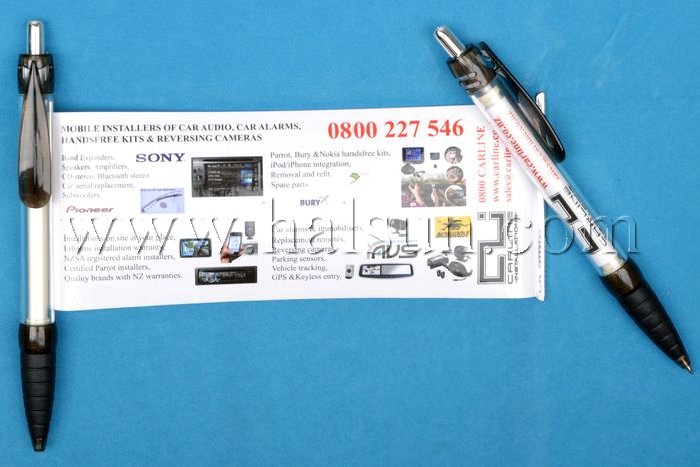 Print your promotional message on both sides of the retractable material and give your customers a reliable pen that will ensure your promotional message keeps working for you a long, long time after rollout.
More than just a pen, it's a promotional billboard too!
Perfect for
Medical Industry
Trade Shows
New Product Rollouts
Team Schedules and Timetables
Maps
Technical Information
Corporate
Self Promotion
Quick reference guide and much more….
You Get
Four (4) Colour printing
Colour printed both sides – standard
High Gloss Stock
Quality internal spring mechanism
The latest popular styles to choose from
PMS Colours on Barrel
Choice of Blue or Black Ink
A refillable – re-useable pen
100% original guarantee
Ballpoint pens with roll out menus inside is 100% customisable and will not only deliver a tonne of information with impact and WOW FACTOR, it will also be a promotional item or a gift that people will love to show off.
Artwork for your own made to order Ballpoint pens with roll out menus inside can be easily prepared by any graphic designer. Proofs are usually emailed for an approval (PDF File). A proof can be assembled into a pen on request – fees apply. Production time from artwork signoff is around 20 to 25 days. Normally 4 weeks to your door. The genuine product is built to last and is a refillable product. Refill inserts are available at most stationers.
Display your message inside a Ballpoint pens with roll out menus inside!
Message Size 180*68MM – Retracts Into The Pen
Choose from Single or Double-Sided
Barrel colors: Blue, Black,White, Red, Purple, Green, Blue, Orange, Yellow and more.
Ink colors: Blue or Black
Full Color Banner Message Promotional Pens
Minimum Order Quantity – 500
Call for a quote for larger quantity
View the FAQs for more information
Choose your favorite grip color:
15-days Urgent Orders Plan for Ballpoint pens with roll out menus inside
As most of the small quantity promotional gifts are for a certain comming event. Thus many orders need quick production and swift delivery. We launch the 15-days Urgent Orders Plan to enhance your events!
1. Delivery time. 15 days means time between the day we received your payment and the day the goods reach your door. And everything listed in following confirmations before production must be confirmed before 15 days start counts.
2. Price. Normally there will be 20% extra based on our open price list. Check price here. But need our further confirmation for specific region.
3. Express freight. Already included in open price list.
4. Payment Terms. T/T in advance. Usually there will be 2 business days for us to receive payment from main big USA and Euro banks. And 2-5 business days from South America and Africa. So make sure you made payment 2-3/2-5 business days before 15 days counts. And make sure use SWIFT. We can also accept paypal for small orders to speed up payment.
Part II: Order quantity less than 10,000pcs (exclude 10,000pcs)
1. Barrel color. Choose at: http://flagpenx.com/Scroll-Banner-Pens-HSBANNER-9_COLOR
Customized color for barrel is not workable for quantity less than 10,000pcs.
If not HSBANNER-9. Check all scroll pen models here
2. Ink color. Black or blue?
3. No logos on clip or barrel. This is to fasten production. As the barrel is transparent logo on paper banner will show clearly even the banner is not slided out.
4. Which one is the face side of your artwork. If your artwork printed on paper banner is vertical, specify which side is close to pen barrel when the paper banner is pull out.
5. Your detailed address to deliver scroll pens to. Post code, Telephone number, contact person.
(Price as low as USD0.4/pc, and free shipping to your door!) *1
For HSBANNER-9:
Ballpoint pens with roll out menus inside order link for 500+ for USA, West Euro, Australia clients
Ballpoint pens with roll out menus inside order link for small quantity 100 – 500 pcs for North America, West Euro, Australia clients
Ballpoint pens with roll out menus inside order link for 500+ for clients from Africa, South America,East Euro, Mid East
*1 This low price is based on certain quantity and delivery location. See details by clicking above order link.